That's how one of my author friends described Air Awakens after the first time she read it.
I was super excited by this description, not only because it sounds awesome but there were elements I borrowed from both. Want to know what they were? Here's a few teasers…
I wanted to try to capture the dark mystery and magic of the Phantom of the Opera. I love the Opera Populaire and how you start the whole musical knowing that this beautiful, splendid, opera house is going to be met with misfortune. And yet, when the chandelier rises, everything seems to glitter. Being a musical, I think I have to let the music speak for itself, consider the following lines as "teasers" of what you can expect from Air Awakens:
"Twisted every way, what answer can I give? Am I to risk my life to win the chance to live?"
"Close your eyes and surrender to your darkest dreams. Purge your thoughts of the life you knew before."
"And do I dream again, for now I find… The Phantom of the

Opera

is there, inside my mind."
Contrasting with the dark shadows at every turn is something far more hopeful, far brighter. Our main character, Vhalla Yarl, is a girl of low-birth who gets secretly introduced to high-society. And, yes, since you asked there is a "ball."
Interested in Air Awakens? Click here to preorder. Or, enter the Goodreads raffle below for a chance to win the last advanced copy. (Or both!)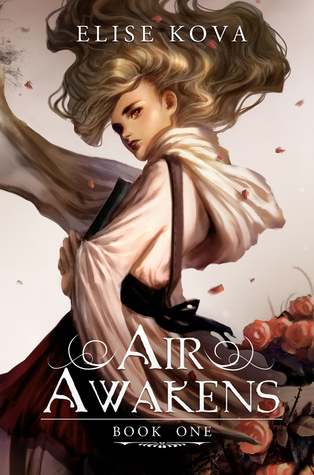 by Elise Kova

Giveaway ends July 31, 2015.
See the giveaway details
at Goodreads.