My TBR (To Be Read) can be a hot mess of books. I love reading and I love books, if these two facts weren't true than I likely wouldn't be an author! However, sometimes being an author gets in the way of reading. It's weird to say, but when I am deep into writing it's hard for me to break out of my worlds to read. Call it a limitation of my artistic process.
That being said, I'm setting a (tiny) reading goal for 2016 (wish me luck) and I thought I'd share the 5 books that I'm determined to read!
In no particular order…
1) Elementals (Elementals, #1) by Michelle Madow
This is likely to be my first read of 2016 as it comes out on January 26th! Michelle Madow is a great friend and publishing mentor of mine so I'm super lucky to have an advanced copy sitting on my desk. Like the title suggests, Elementals has elemental magic in it, and given the magic system in Air Awakens I'm sure it'll be right up my alley!
2) The Black Mage: First Year by Rachel E. Carter
I first noticed The Black Mage series when it began appearing on Amazon's "Readers Also Bought" for Air Awakens. Then, I noticed that reviewers were likening the love interest in The Black Mage to Aldrik from Air Awakens. On top of it all, Rachel is an amazing person! So yes, this is so at the top of my TBR.
3) Switched (Trylle Series, #1) by Amanda Hocking
In reading reviews of Air Awakens I've begun to find people who I think share very similar tastes to me in reading. One such person is Jamie of Books and Ladders. I asked Jamie what fantasy SHE really enjoys/recommends and the Trylle series came up. I'd never heard of it, so I'm really looking forward to giving it a read!
4) Stolen Songbird (The Malediction Trilogy, #1) by Danielle L. Jensen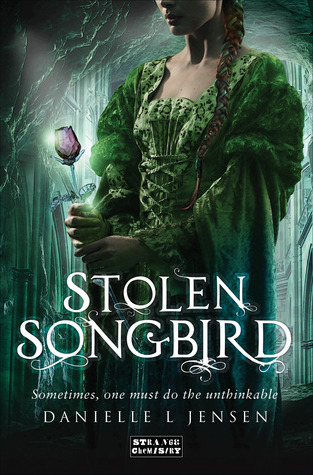 Okay, confession time, when I was initially preparing Air Awakens for publication I gathered a palette of covers to send to my cover artist (Merilliza Chan) as inspiration and examples of covers I really liked. Stolen Songbird was one of those covers. Needless to say, I've had my eye on this book for a while! Fast forward to a couple months ago and I somehow managed to get to talking to the wonderful Danielle L. Jensen on Twitter (did I mention she's wonderful?). Warrior Witch, the final book in the trilogy, will come out on May 3rd. So I must get Stolen Songbird and book two, Hidden Huntress, finished before then!
5) Eye of the World (Wheel of Time, #1) by Robert Jordan
I'm a little ashamed this is on my TBR because it means I haven't read it yet. Jordan is one of the most iconic fantasy authors out there and Wheel of Time is a genre-defining series as far as I'm concerned. It's something that I feel is a "must read" for fantasy lovers. Not to mention a bunch of people whom I really respect can't speak highly enough of this series. This will be the year that I finally cross this off my TBR!
So there you have it! The first things I'll be trying to read this year! What do you have at the top of your TBR?