I'm not going to lie, I feel a little like this: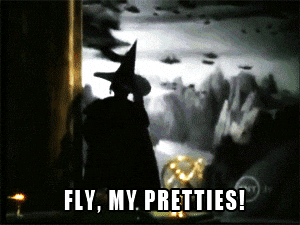 But, Elphaba jokes aside… I can't believe that it's finally here. Air Awakens is FINALLY out. There's no more waiting. No more people who want to review it but can't get their hands on a copy because the author is broke and doesn't have money for shipping (silly author). It's out there in the world and it's waiting to be read.
That's where, I hope, you come in.
I can't wait to hear what everyone thinks. I can't wait to find out the good, the great, the bad, and the ugly about my books as seen through your eyes. I can't wait to see my characters loved and hated. At least, I desperately hope that's what happens.
While I wait with baited breath to find out what everyone thinks of Air Awakens I want to post some of my favorite snippets from ARC reviewers. I hope you enjoy these as much as I did. And, I hope that you find yourself agreeing with some when you have a chance to finish the book for yourself. (Click on the names to read the full review)
"But, I will say this, [Prince Aldrik] is probably one of the most frustrating, yet, deeply satisfying book boyfriends I will ever have." – Unironically Excited
"I've never done this before but I had to physically cover the bottom of the pages so my eyes wouldn't skip ahead." – Cassandra Reads a Lot
"I think sometimes people equate badass with punching and kicking, but it was the quiet moments of Vhalla realizing she was meant to be something great, even if it was only for one person, that I fell in love with her." – Books and Ladders
"Elise Kova has managed to combine the ingredients for a Dani special: intelligent and independent female role model, strong and complex male counterpart with some awkwardness, an interesting magic system in a vivid world and a few twists and turns thrown together with clues to pick up along the way." – Dani Reviews Things
"Air Awakens was a pretty damn epic read." – IrisjeXx
"I rarely give out 10/10 stars, but this book definitely deserves it.  I fell in love from the first chapter, and it only got better from there.  The last quarter of this book was so intense, I stayed up all night just to finish it." – Novels to Song
"For me, I find it really hard to get into fantasy books because sometimes I just can't connect with the world or characters, but this one is now on my favorite fantasy lists because it was absolutely amazing! Not only was the world building vivid and unique, but also the writing style. I loved how the author was descriptive in her writing, but not to the point where it felt forced, or too poetic." – Sassy & Dangerous
"And let this be known, as it's pretty obvious with my other reviews, that I'm an extremely hard to please reader. It's been a looooong time since a book captivated me so strongly from start to end." – Wonderland Novels
"The chemistry and frustration between the the two main characters were creatively adjusted according to their circumstances. It was not like those two characters were forced into an item." – Let Me Be Fictional
What will your review say about Air Awakens? Get it on Amazon, Amazon.uk, iBooks, Barnes & Noble, Google Play, Kobo and Book Depository. Out Today!